Learn Japanese in Japan, combine your learning vacation with a language course, enjoy a total Japanese language immersion and enjoy all the other treasures Japan has to offer...
Select below your Japanese language vacation in Japan and the location which is best for you.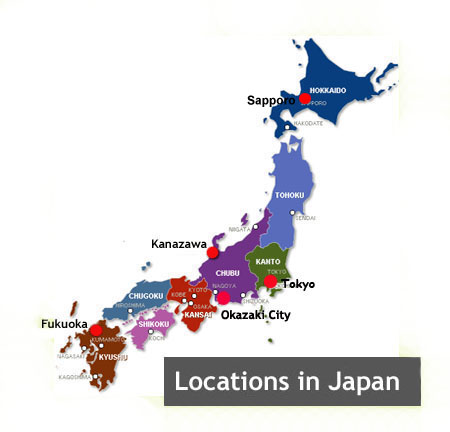 Take a quick look at your Japanese options in Japan.....

Capital City - TOKYO
Tokyo is the core of the most populated urban area in the world
So much to see and do!
School located in the education district of Takadanobaba
Tokyo Japanese language course details

One of Japan's greenest cities - OKAZAKI CITY
Okazaki is about halfway between Tokyo and Osaka
The city of Okazaki (approx. 360,000)
Offers a much cheaper way to live
One of Japan's greenest cities with a beautiful natural environment
Okazaki City Japanese language course details

Capital City - FUKUOKA
Learn Japanese in Northern Kyushuin
many temples, museums, parks
Fukuoka Castle with it's remaining stone walls
Good beaches and a large marine aquarium
Fukuoka Japanese language course details

Fifth largest city - SAPPORO
Hosted the 1972 Winter Olympic Games
100 schools of higher learning are located here
Many festivals
Sapporo Japanese language course details