Learn a language with a group of individuals of a similar age and interest...
Each year we organize a limited number of 2 week language vacations, for our more mature students in selected locations.
Courses have been designed for mature learners with intersting cultural activities and excursions.
Combine your vacation with a language course, enjoy a total language immersion, participate in interaction with the locals and make friends with like-minded people from around the world!.
Select below your 2 week language vacation in the location which is best for you...

French Riviera (Cote d'Azur) - ANTIBES
13 km from the Nice, quaint smaller upscale town
Charming campus in heart of Antibes
Walking distance to historic center & beaches
One of the prettiest coastal landscapes in France
Antibes French language vacation details

Spanish in SANTIAGO DE COMPOSTELA, SPAIN (for closed groups)
Course in 3 levels (beginner, intermediate and advanced) and focus on practical Spanish to improve communication in everyday situations: meeting people, shopping, ordering at a restaurant, booking a hotel. Daily activity during the week and a full day excursion on the weekend.
>> Language vacation details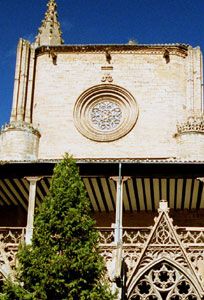 Spanish in PAMPLONA, SPAIN
General Spanish course including a guided visit of Pamplona, tapas tasting session in Pamplona, visit to a winery which includes a wine tasting session as well as an explanation on the process of wine making. Visit to Olite, the ancient seat of the court of Navarra, which includes a guided visit to the medieval castle.
>> Language vacation details

Italian in TAORMINA, (SICILY) ITALY
Learn Italian on the island of Sicily, walk to the beaches and enjoy the warm aqua blue Mediterranean. Hike the famous volcano Mount Etna through mature forests or visit the well-preserved Greek Theater and many other archaeological sites
>> Language vacation details

Booking a vacation is easy and we accept most major credit cards. We require a deposit of $300 (or 10% if over $3000) and a completed booking form. After checking availability we normally confirm a booking within 24 hours.
To know more click here